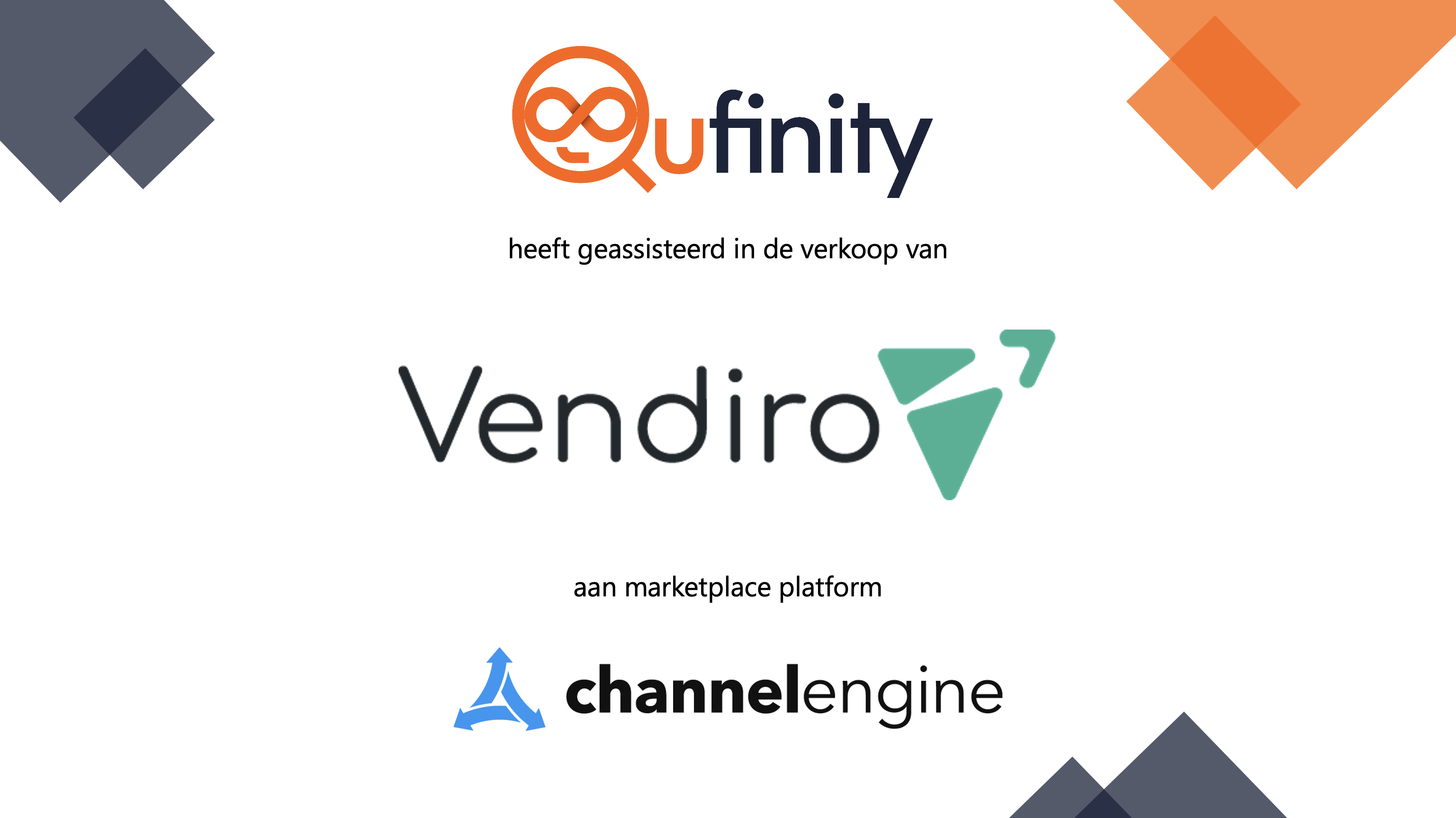 Qufinity dealmakers Wessel van Huizen and Lars de Bruin have in collaboration with David Sluis assisted entrepreneurs Twan Rutten and Bart van den Tol from Vendiro with the sale to international marketplace platform ChannelEngine.
Global marketplace and ecommerce management platform ChannelEngine acquires competing company Vendiro, combining the strength of both to deliver an even better solution to their many customers worldwide. By joining forces, the combined resources will result in increased expertise, accelerated innovation and a stronger offering to customers. Resources can be deployed with maximum effect, and the pace of innovation will be accelerated. For Vendiro customers, it will mean greater access to more markets, significantly enhancing their growth opportunity. Vendiro's deep knowledge and expertise in the European market will now be combined with ChannelEngine's own expertise, and 15+ years of ecommerce experience. This union will result in a greater global reach and extended seller capabilities for brands and retailers, supported by the best experts in ecommerce.
About Vendiro
Vendiro is a leading platform for online sellers based in Leiden, currently giving them access to more than 70 different European marketplaces with a single integration and seller tools that help automate and grow sales. The company has a strong presence in the Dutch and European market, serving customers such as Dorel, Blokker, Bax Shop, Keter and EXIT Toys.
About ChannelEngine
ChannelEngine is a global leader in marketplace and ecommerce management software, with a seller platform that enables access to more than 700 online sales channels worldwide, and advanced technical capabilities for professional ecommerce management. Based in Leiden, the Netherlands, the company also has offices in Munich, Dubai, Singapore, Melbourne, Toronto, Dublin, and New York. ChannelEngine is building the world's largest ecommerce network and operating platform with data-driven enablement, orchestration, and automation layers. It offers Brands and Retailers rapid sales growth potential and better margins by using tools that streamline and accelerate their online sales, serving customers such as Bugaboo, Hunkemöller, Brabantia, Sonos, Electrolux and Chicco.
In their quest for the optimal ecommerce management solution for online sellers, both companies have taken different development paths. As a result, each platform and team offers unique strengths which, when combined, will create the most state-of-the-art solutions for online sellers.
The acquisition of Vendiro marks a new stage in ChannelEngine's evolution. The addition of Vendiro's talented team will further enhance ChannelEngine's expertise and ecommerce know-how to better serve customers. Technological innovations from both companies (such as advanced algorithms and smart pricing engines) will be enhanced by analyzing and combining their unique strengths. Thanks to this acquisition, there is a new opportunity to extend the platform with more ecommerce management capabilities and make these capabilities available to a wider customer base.
"This acquisition benefits customers from both companies: by joining forces, we can truly offer the best of both worlds. Vendiro is a great company and a strong team with considerable expertise in ecommerce, so we're excited about how this will translate to future innovations and even more value to our customers."
– Jorrit Steinz, CEO and Founder of ChannelEngine
"We're very excited about the many new possibilities this acquisition will create – for our staff, our capabilities, and, ultimately, our customers. Our customers are important to us, so we're happy to continue delivering great service as we always have, but with new opportunities for growing online sales and margins for our customers."
– Twan Rutten, CEO of Vendiro
Role of Qufinity
Qufinity was financially involved during the entire acquisition process and responsible for a.o. drafting the bidbook, evaluating the Non-Binding-Offers and guiding the Due Diligence process.